Today, plenty of modern putters contain face inserts to help with feel on the greens.
Over time, these inserts can become worn and may need replacing. Or in other cases, golfers might wish to alter the putter's feel by replacing the putter face insert material.
Can you replace putter face inserts in the comfort of your home?
In this article, you'll learn how to replace the putter face insert if your current one becomes worn out, or if you're looking to adjust the feel without buying a new putter.
Replace Putter Face Insert
You can replace putter face inserts when they become worn out, or if you're looking to alter the putter's feel against the ball. Using boiling water and quick-setting epoxy glue, putter face inserts can be replaced at home. This helps to avoid the need to buy an entirely new putter.
What Is a Putter Face Insert?
In the past decade or so, putter face inserts have become increasingly common.
Putter face inserts are usually made of polymer and are designed to provide a softer feel against the golf ball, as opposed to traditional putter heads milled from solid metal.
One of the main factors in the rise of putter face inserts is the use of harder golf balls.
In recent years, golf balls have been manufactured with harder materials to improve distance for longer shots, and durability around the course.
So, putter face inserts help to create a softer feel when using relatively hard golf balls.
The video below explores several different types of putter face inserts, and discusses how they impact feel when putting:
Putter Face Insert vs Milled
The type of putter us golfers use makes a big difference to our overall game.
There are two basic types of putter: those with a milled face, and those containing a putter face insert. The differences are discussed below:
Milled Putters
Milled putter heads are produced from a single block of solid metal. Typically, they feature some kind of complex milled pattern on the putter face to optimize both the feel and sound against the ball.
Insert Putters
Putters with face inserts often contain a soft insert material – like polymer, aluminum compound, or rubber. The insert is intended to provide a softer feel against the ball, while also deadening the sound.
Which Is Better – Milled or Insert?
Traditionally, milled putters felt hard against the ball and insert putters felt much softer.
However, the performance gap between the two putter types has closed significantly since milling technology has improved. Processes such as deep milling has enabled milled putters to achieve a very soft feel akin to insert putters.
In addition, factors like the putter grip, shaft length, and head weight all contribute to the feel of the putter. Therefore, it's hard to single out any one variable when testing performance.
Ultimately, it comes down to personal preference. Both milled and insert putters are used by professional tour players, demonstrating that neither is superior. Experiment with both types until you find the putter that feels right for you.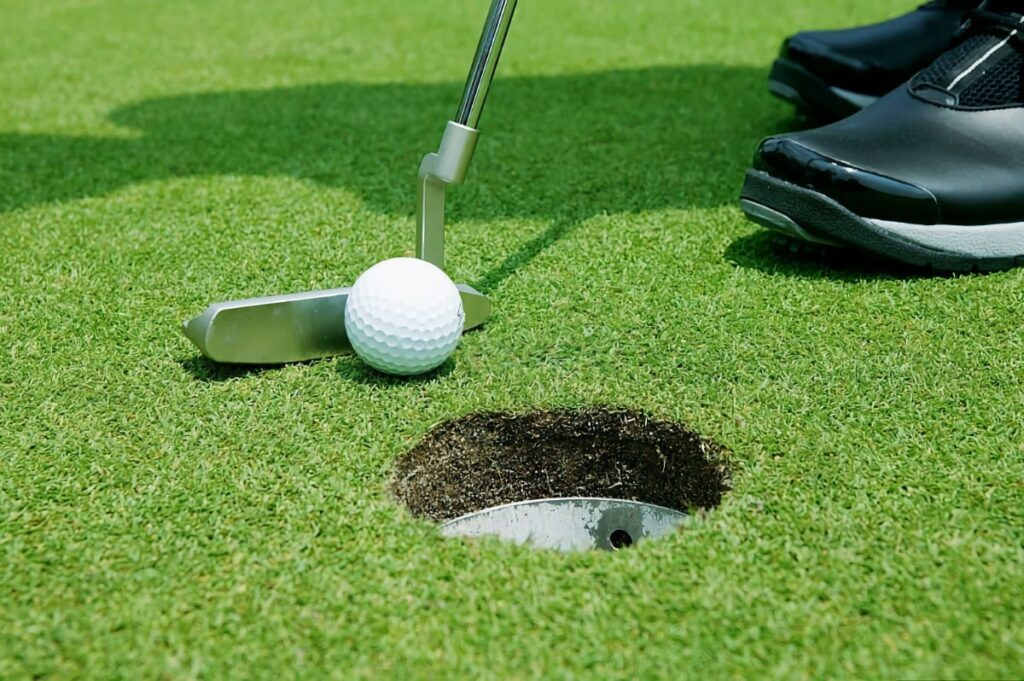 Do Putters Wear Out?
Your putter will probably last longer than any other club in your bag, as it only experiences light strokes as opposed to full golf swings.
Being constructed from a single block of metal, milled putters will typically never wear out.
However, soft polymer putter face inserts can become worn over time with repeated use. Therefore, putter face inserts can occasionally need replacing.
If you're struggling with distance control, this can be a sign that you need to replace your putter face insert. Likewise, soft inserts are known to crack over time.
Can You Replace Putter Face Inserts?
Fortunately, many putter face inserts can be replaced to breathe new life into your putter.
Likewise, a replacement putter face insert can offer different levels of feel.
For instance, soft materials like rubber will dampen the sound and make the putter feel very soft. On the other hand, harder face inserts like aluminum compounds will feel firmer.
Read on to learn how to replace a putter face insert at home.
How to Replace Putter Face Insert
Replacing the putter face insert is a simple two-step process:
Remove the Worn Insert – using boiling water
Create the New Insert – either DIY or using a service
Glue in the New Insert – using quick-setting epoxy
Before you start this process, ensure…
Step 1 – Remove the Old Insert
Firstly, set up a pot of boiling water.
Place the putter head in the boiling water, resting the shaft against the edge of the pot.
PRO TIP: Ensure only the putter head is submerged in boiling water and not the shaft, to avoid the risk of the putter head disconnecting from the shaft.
After around 10 minutes, the original glue or double-sided tape bonding the insert to the putter head should be softened.
Next, remove the putter from the boiling water and use a pick to remove the insert from the corner. Avoid damaging the face to allow the insert to be reused in the future.
Don't use the pot for cooking after this process due to the risk of contamination.
This video illustrates how to remove a putter face insert on an Odyssey putter:
Step 2 – Create the New Insert
You might already have a replacement insert, or are looking to create your own using a material like copper.
Alternatively, get in touch with Spry Evo Design. They offer replacement putter face inserts in a range of designs and material options.
There are numerous material options to consider when replacing the putter face insert. For instance, high-end materials like carbon fiber can provide an excellent feel while giving the putter a unique aesthetic.
When you've got your new insert ready to go, it's time to glue it in place.
Step 3 – Glue in the New Insert
First, remove any excess glue from the putter head using denatured alcohol to prepare the surface.
Next, mix the quick-setting two-part epoxy and apply it to the putter head's surface. Ensure the entire face is covered with sufficient glue.
Then, take the replacement insert, install and press it against the putter head.
PRO TIP: Make sure to apply plenty of pressure so that the insert bonds correctly to the putter head.
Once installed, wipe off any excess glue and leave it to cure for a few hours to be safe. Then, the putter is ready to be used!
The following video demonstrates the insert installation process:
Conclusion
In summary, replacing the putter face insert is an easy way of improving the feel against the ball, without investing in a new putter.
The three-step process is simple:
Remove the Worn Insert – using boiling water
Create the New Insert – either DIY or using a service
Glue in the New Insert – using quick-setting epoxy
This process also allows you to add a custom look to your putter, providing a unique finish that distinguishes it from other models.