Founded in 1973 by golf club designer and former Australian amateur golf champion Thomas Crow, Cobra initially focused its attention on woods and utility clubs.
Shortly after, the brand expanded into irons — becoming particularly famed for its oversized King Cobra irons during the mid-1990s.
Now a subsidiary of Puma, Cobra has supplied millions of everyday golfers with high-quality, reasonably-priced golf clubs. In addition, the brand has several tour players on its roster — including Rickie Fowler, Lexi Thompson, and Gary Woodland.
In this article, you'll find a comprehensive list of Cobra irons by year.
So without any hesitation, let's get into it!
Cobra Irons By Year
Cobra released its first set of irons in 1991, with a collaborative effort titled Greg Norman Signature Forged. Since then, Cobra has released several quality iron sets for pros and amateurs alike. Most recently, the Cobra Aerojet irons offer a forgiving and quality option for the everyday golfer.
Here is a list of all Cobra irons by year:
Cobra Irons: 1990-1999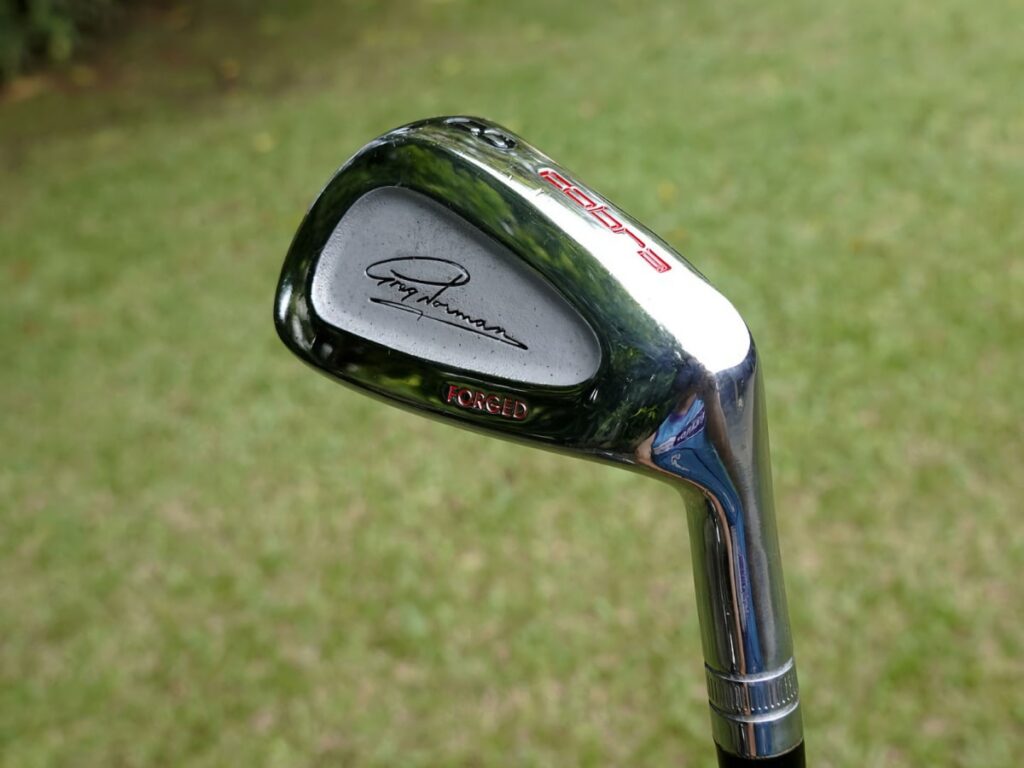 Having formed in 1973, Cobra Golf focused on producing drivers, fairway woods, and utility clubs. To this day, the brand remains best known for its woods.
In 1991, Greg Norman was one of the biggest names in professional golf and he switched from Spalding to Cobra Golf. In fact, he invested $300,000 in Cobra and was actively involved in growing the brand through his global exposure.
That year, the brand launched the Greg Norman Signature Forged irons. While technically classed as perimeter-weighted, these irons featured a very shallow cavity so performed more like blades. In short, they were most suited for the low handicapper.
Fast forward to 1996 — Cobra was acquired by American Brands (now Fortune Brands) and Greg's $300k investment became approximately $100 million.
In 1994, Cobra released the King Cobra Oversize irons. These proved very popular, and Cobra became the go-to brand for higher handicappers seeking a larger clubface.
Three years later, the King Cobra II Tour and II Oversize irons were released. Iterating on the popular models released in the mid-1990s, they serviced the everyday golfer.
Cobra Irons: 2000-2009
At the turn of the new millennium, Cobra Golf was experiencing rapid growth and continued to develop golf clubs to service the growing global demand.
In 2000, the brand launched the Baffler Multi Metal irons. Commonly referred to as hybrid irons, these clubs featured a sleek design with hollow-head construction.
Shortly after, Cobra introduced the Cobra King SS and SS Forged irons. With the name standing for "Stainless Steel", these irons extended the King legacy with a classic, yet forgiving club head design for the everyday golfer.
In 2004, the 3400 I/H and 3400 I/XH irons were released. With a progressive cavity-back head design and a massive sweet spot, these targeted the higher handicapper who sought ultimate forgiveness and reliable distance control.
Next, the FP and S9 irons were launched. The S9 was particularly well-received, rated "the most forgiving irons Cobra has ever made" at the time by Golf Review.
Two years later, the FP and S9 irons were refreshed with sleek branding and better weight distribution — meaning even more forgiveness than previously.
Also in 2008, they released the Pro CB and Pro MB irons. The CB (cavity back) version proved a great option for the low to mid-handicapper, while the MB (muscle back) version had an ultra-sleek design and suited the single-digit handicapper.
Cobra Irons: 2010-2019
In 2011, Cobra introduced the S3, S3 Pro, and S3 Max irons.
Produced in a dark, modern finish, the S3 had a club head that inspired lots of confidence at address due to its wide sole and forgiving design.
Next, the AMP and AMP Forged irons were developed. With a multi-alloy design and strategically positioned weighting, these irons provided explosive distance.
This was followed by the Baffler XL — an oversized version of the original Baffler model that was first released back in the year 2000.
In 2013, the AMP Cell irons were launched. Available to order in a range of color options, these clubs included a sculpted sole configuration for improved turf interaction. Also, the irons featured high-strength face-weld technology, for excellent ball speeds.
In 2014, the AMP Cell irons were superseded by the BiO CELL and BiO CELL+ irons.
Next, the brand launched the Fly-Z irons. These were available in four versions — Fly-Z, Fly-Z XL, Fly-Z Pro, and Fly-Z+ — with each suiting different skill levels and styles.
By 2017, the Cobra King series had received many iterations. The next — King F7 — was available in both regular and "One Length" versions for players who preferred to use the same shaft length throughout their full set of irons.
In 2018, the King F8 was released. With minor changes over the previous model, it serviced the everyday golfer who sought a distance iron.
To round out the decade, the King F9 Speedback irons were introduced.
Cobra Irons: 2020-Present
In 2020, Cobra launched the King SpeedZone and SpeedZone One Length irons. Building upon the F9 Speedback range released the previous year, these featured very strong lofts and repositioned weighting to allow for even greater distances.
The following year was a busy year for Cobra. First, it released the RADSpeed irons as a replacement for the SpeedZone version.
Also, the brand developed the RF Forged MB irons — a collaborative effort with Rickie Fowler that featured a copper head finish and a tiny sweet spot.
Building on the copper release theme, Cobra introduced the King MIM Tour Copper irons along with the RF REV33 Proto Limited Edition.
In 2022, it launched the LTDx irons. This combo set included six irons and one hybrid, offering optimized distance gapping with high launch and ball speed.
Cobra Aerojet Irons
Most recently, Cobra launched the Aerojet irons.
Designed with a unique "PWR Bridge" — a suspended weight system separated from the body that ranges from 42 to 69 grams depending on the iron — they offer great distance at a reasonable price point.
At address, the club has a chamfered topline to help make it look thinner than it actually is. Ultimately, it looks great behind the ball for a club packed with forgiveness.
Check the Aerojet irons out on Global Golf below: