When planning a golf course project, the first step is to acquire the land. Importantly, the amount of land available will dictate which type of course can be built.
So, how many acres do you need for a golf course?
In this article, you'll learn how much land is needed to build a golf course — from full-sized 18-hole courses to smaller par 3 courses.
How Many Acres Do You Need For a Golf Course?
You need approximately 120 to 200 acres for a standard 18-hole golf course. For a 9-hole course, you need 60 to 100 acres. However, for an 18-hole par 3 golf course you'll only need about 20 to 40 acres. Less land means more tightly-packed holes, with fewer buffers between holes.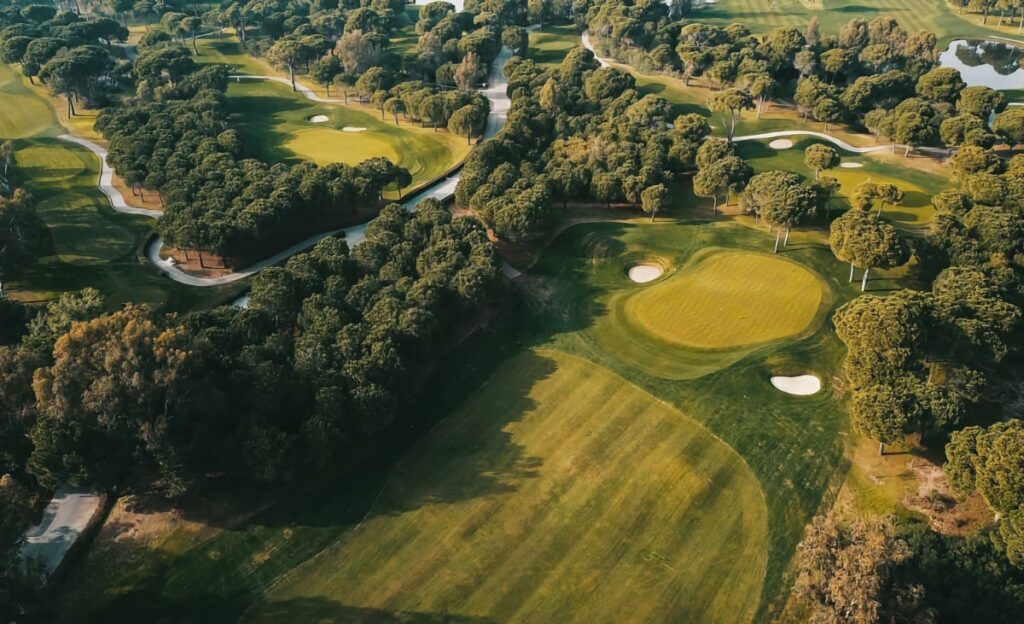 How Many Acres For an 18 Hole Golf Course
According to the GCSAA, the total acreage of an average 18-hole golf course in the U.S. is 150 acres, of which 100 acres is maintained turfgrass.
Within this area, a golf course architect will be able to fit a regulation-sized golf course of 5,000 to 7,000 yards in length, measured from hole to hole.
In his guide, Building a Practical Golf Facility, Dr. Michael J. Hurdzan states that "a full-size 18-hole golf course would need 120-200 acres." This figure accounts for only usable land which does not allow for wetlands or restricted areas.
Similarly, ASGCA golf course architect William W. Amick says that par 72 golf courses "require from 140 to 180 acres of useable land."
While these ranges are fairly broad, they account for a number of variables:
Practice areas: Often, golfers will expect a high-quality course to include a driving range, practice greens, and chipping areas. When planning for large practice areas, more land is necessary for the entire project.
Budget restraints: Land costs vary wildly depending on location. On a tight budget, developers might choose to reduce the cost of building a golf course by opting for shorter and tightly-packed holes in a smaller footprint. Also, larger golf courses have higher recurring maintenance costs, which can affect decisions.
Geographical restraints: As with budget restraints, urban and suburban locations with many built developments call for tighter courses with less acreage. On the other hand, rural projects can choose a higher acreage with luxuries such as larger greens — when maintenance costs aren't a factor.
Timeline restraints: In some cases, project timelines will determine the amount of land required for a golf course project. It takes up to 2 years to build a golf course, so reducing acreage will ultimately shrink the project timeline.
Average land area for an 18 hole golf course — 150 acres
The Components of a Golf Course
So, a standard 18-hole golf course in the U.S. fits within a land area of around 150 acres.
When analyzing the components of a successful golf course, we can separate the course into two categories: turfgrass, and non-turfgrass.
Turfgrass
Of the total 150-acre area, around 100 acres are maintained turfgrass which consists of the following components:
Rough — 51 acres. The rough accounts for the largest area, occupying almost a third of the total useable area on the golf course.
Fairways — 30 acres. Accounting for one-fifth of the golf course, fairway turf requires frequent mowing, as well as fertilization in the shoulder seasons.
Practice areas — 7 acres. This includes driving ranges, practice greens, and chipping areas, where golfers can improve their game and prepare for a round.
Tees — 3 acres. Tee boxes account for just 2% of the total area of the course, yet require plenty of maintenance to repair divots throughout the season.
Greens — 3 acres. Despite only occupying 2%, greens require the most attention on the golf course, including annual maintenance tasks such as aeration.
Clubhouse grounds — 3 acres. These are the turf areas around the clubhouse, which are important for first impressions upon arrival at the golf club.
Turfgrass nurseries — 1 acre. Many golf clubs maintain turf nurseries, which serve as a source of turf for patching in fairways and tee boxes.
As the largest component, the rough has the highest scope for flexibility. When working with less land, developers could use less rough to make the course more challenging, while reducing land costs and ongoing maintenance costs.
Non-Turfgrass
The remaining 50 acres of non-turfgrass areas are dedicated to the following:
Non-turfgrass landscapes — 24 acres. This refers to parts of the golf course such as the area under woodland, within the bounds of the course.
Water bodies — 11 acres. Both natural and man-made, water hazards account for around 7% of the total area on the golf course.
Buildings — 6 acres. This takes into account any structures on the golf course, including the clubhouse, halfway house, and any storage facilities.
Bunkers — 4.5 acres. A fundamental component of golf course design, bunkers take up approximately 3% of the useable land.
Parking lots — 4.5 acres. Finally, parking lots also account for around 3%.
"There are an estimated 2,244,512 total acres of land on golf facilities in the United States, including 1,504,210 acres of maintained turfgrass and 740,302 acres of non-turfgrass landscapes, water bodies, buildings, bunkers or parking lots."

GCSAA Golf Course Environmental Property Report
How Many Acres is a Championship Golf Course?
Typically, championship golf courses are close to the upper bounds of the 120 to 200 acre range — to accommodate enough distance for competition golf.
However, according to Golf.com, "the term "championship course" doesn't mean much other than it is 18 holes, fairly long and fairly tough." Instead, stadium courses have a more constricting definition, as they are built with spectators in mind.
Therefore, stadium courses may require over 200 acres — to allow for enough distance from the back tees for competition golf, as well as sufficient spacing between holes for easy movement and flow of spectators.
For example, PGA Tour events use TPC locations — such as TPC Sawgrass — as these golf courses were built specifically to accommodate both players and spectators.
Average land area for an 18 hole championship golf course — 200+ acres
How Many Acres For a 9 Hole Golf Course
It won't come as a surprise that 9-hole golf courses occupy around half the land area of a standard 18-hole course. Overall, you'll need between 60 and 100 acres.
Despite their smaller footprint, 9-hole courses can be just as enthralling as a traditional 18-hole course. In addition, they are an excellent golf course development alternative in areas where land is scarce.
That said, 9-hole courses are most common in the UK — where there are fewer acres available than in the States. An example of which is Royal Worlington & Newmarket Golf Club, which packs nine thrilling holes into a tiny 40-acre parcel of sandy ground.
Nevertheless, the average 9-hole course in the United States sits within a land area of around 75 acres — depending on the constraints of the site.
Average land area for a 9 hole golf course — 75 acres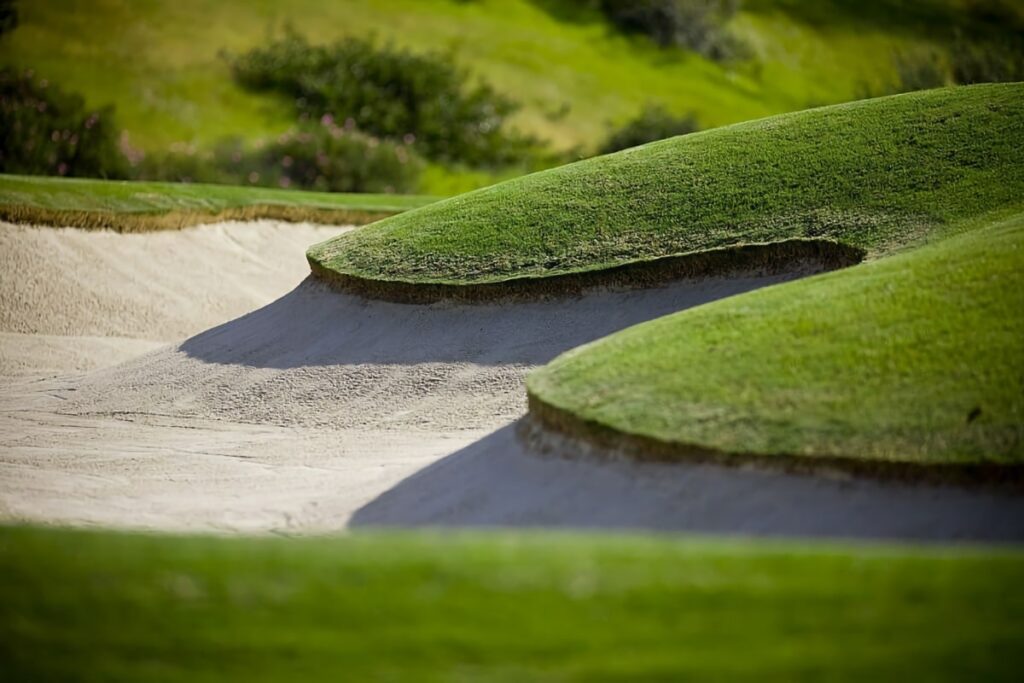 How Many Acres For a Par 3 Golf Course
In the United States, short-form golf is dominated by par 3 courses. On average, a par 3 course will occupy between 20 and 40 acres of land.
According to the American Society of Golf Course Architects: "An 18-hole course of all short par 3's could be built on as little as 30 acres."
Par 3 courses serve as excellent development options for both urban and suburban locations, where land constraints prevent the development of a regular course. As a result, par 3 golf courses cost considerably less to build.
However, it's not just land and budget constraints escalating the development of par 3 courses. Many see shorter par 3 courses as an opportunity to engage the younger demographic, by making it possible to complete a round in less than 90 minutes.
For instance, take a look at Justin Timberlake-backed 3's. The project aims to reimagine the golf experience by offering a floodlit par 3 experience in South Carolina.
Average land area for an 18 hole par 3 golf course — 30 acres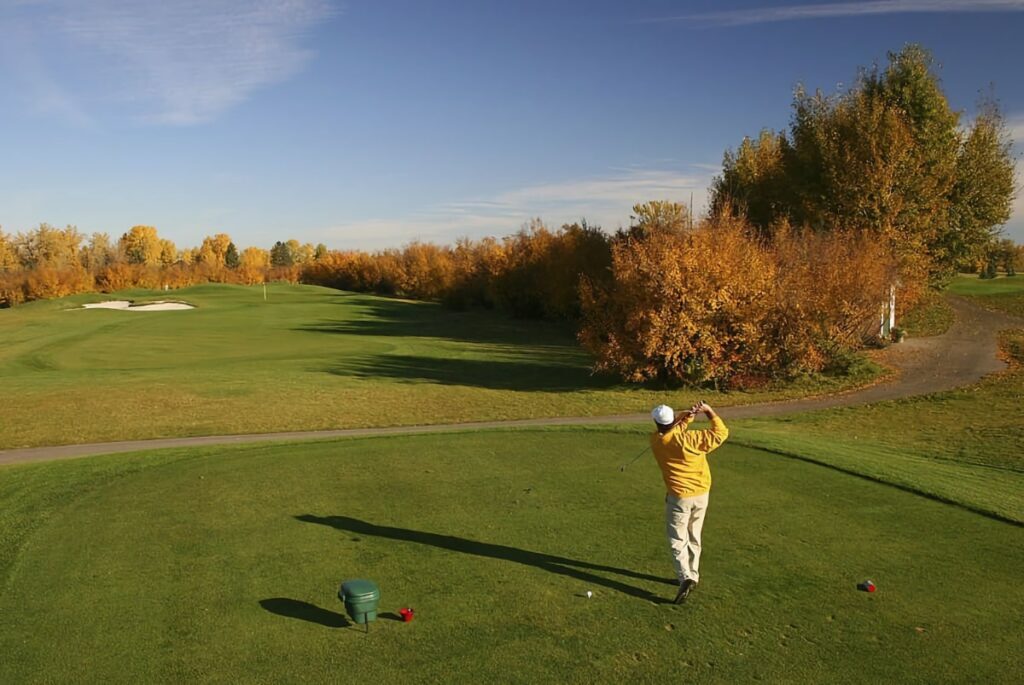 Conclusion
When planning a golf course project, the number of acres available for development will ultimately dictate the format. Whether that's 18 holes, 9 holes, or a par 3 course.
Standard 18-hole golf courses need around 120 to 200 acres of land. This will allow it to accommodate all the necessary components of a successful golf course.
However, championship and stadium golf courses often require over 200 acres. This accounts for the flow of spectators between holes during tournaments.
On the other hand, 9-hole courses only require around 60 to 100 acres. Also, 18-hole par 3 courses can be built with as little as 30 acres of land