Golf is a prompt sport, where being on time is highly essential.
With groups teeing off every few minutes, every golfer has to be aware of the current time to avoid holding up play. As a result, golf course clocks have been woven into the sport's history to keep everything in sync.
But, why do golf courses have Rolex clocks?
In this article, you will learn about the significance of Rolex in the history of golf. Specifically, you'll discover why golf courses have Rolex clocks – including notable examples – as well as how golf courses can get a Rolex clock, and its estimated value.
Why Do Golf Courses Have Rolex Clocks?
Rolex clocks are installed at golf courses that have held major championships in the U.S. and internationally, providing an accurate time on the course. This is part of a sponsorship agreement between Rolex and the four major championships of golf: The Masters, PGA Championship, U.S. Open, and The Open Championship.
The History of Rolex and Golf
Rolex and the game of golf have shared a connection for over half a century, since a partnership with Arnold Palmer in 1967.
Palmer had become the charismatic face of golf in the 1960s, and a Rolex sponsorship saw him play in front of millions with the famous watch on his wrist. Soon after, Palmer's friends and rivals Jack Nicklaus and Gary Player joined him – they were known as The Big Three.
Since that moment, Rolex has dominated the sport. The Swiss watchmaker became the official timekeeper of the U.S. Open in 1980 and The Open in 1981 and has become a major sponsor of all four major championships along with numerous other golf tournaments.
Rolex and golf share a similar identity: quality, reliability, precision, and pioneering spirit.
The video below discusses this history in further detail:
How Many Golf Courses Have a Rolex Clock?
At major tournaments, large Rolex clocks and crown emblems can be seen dispersed throughout the course.
Rolex is known to be the first company to position tournament clocks on major championship courses. The tradition dates back to the 1981 Open Championship at Royal St. Georges Golf Club, located in Kent, England.
While temporary Rolex clocks can be seen on display today at golf tournaments by means of sponsorship, a number of golf courses retain permanent clocks.
What Golf Courses Have a Rolex Clock?
Permanent Rolex clocks feature predominantly at U.S. golf courses that have hosted major championships. These include:
Pebble Beach Golf Links, California
Spyglass Golf Course, Califonia
Spanish Bay Golf Course, California
Poppy Hills Golf Course, California
Torrey Pines Golf Course, California
The Olympic Club, California
Riviera Country Club, California
Pasatiempo Golf Course, California
Monterey Peninsula, California
TPC Sawgrass Golf Course, Florida
Sara Bay Country Club, Florida
Bay Hill Golf Course, Florida
Oakmont Country Club, Philadelphia
Winged Foot Golf Club, New York
Bethpage State Park, New York
Pinehurst Resort, North Carolina
Pine Needles Golf Club, North Carolina
Kiawah Ocean Course, South Carolina
East Lake Golf Club, Georgia
TPC Southwind, Tennessee
Bandon Dunes Golf Resort, Oregon
Chambers Bay Golf Course, Washington
Rich Harvest Farms, Illinois
Congressional Country Club, Maryland
Lancaster Country Club, Pennsylvania
Inverness Club, Ohio
Internationally, alternative styles of Rolex clocks can be found at the following golf courses:
St Andrews Old Course, Scotland, UK
Celtic Manor Golf Course, Wales, UK
This list is ongoing – if I've missed any please do reach out!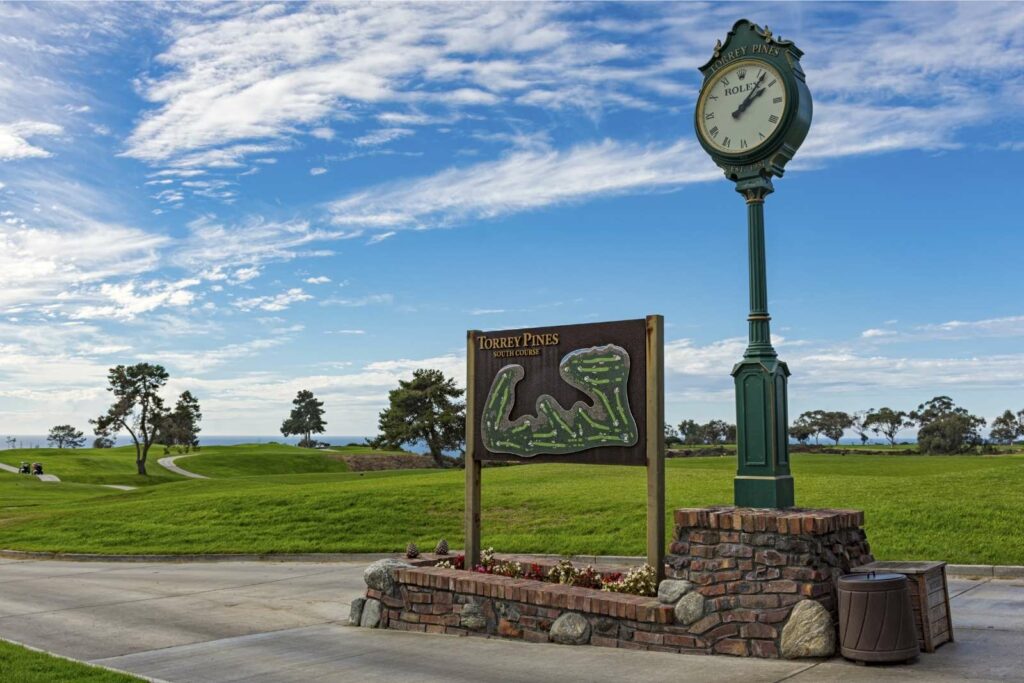 How Does a Golf Course Get a Rolex Clock?
The Rolex clock is installed at golf courses hosting major championships as part of the sponsorship program. As a result, the clock serves as a permanent recognition of the event for future golfers to experience.
So, in order to receive a permanent Rolex clock, the golf course must host a major championship.
How Much Is a Rolex Golf Clock Worth?
As Rolex golf course clocks are such a rare and exclusive item, it's hard to attach a monetary valuation to them.
According to a user on Reddit, the total cost to install a clock at a golf course is around $45k. While it can't be determined if this is the cost for a legitimate Rolex model, it provides a reasonable estimate for the installation cost.
However, as mentioned previously only courses which have been featured in major championships are entitled to install one of these prestigious Rolex clocks, so the value is truly priceless.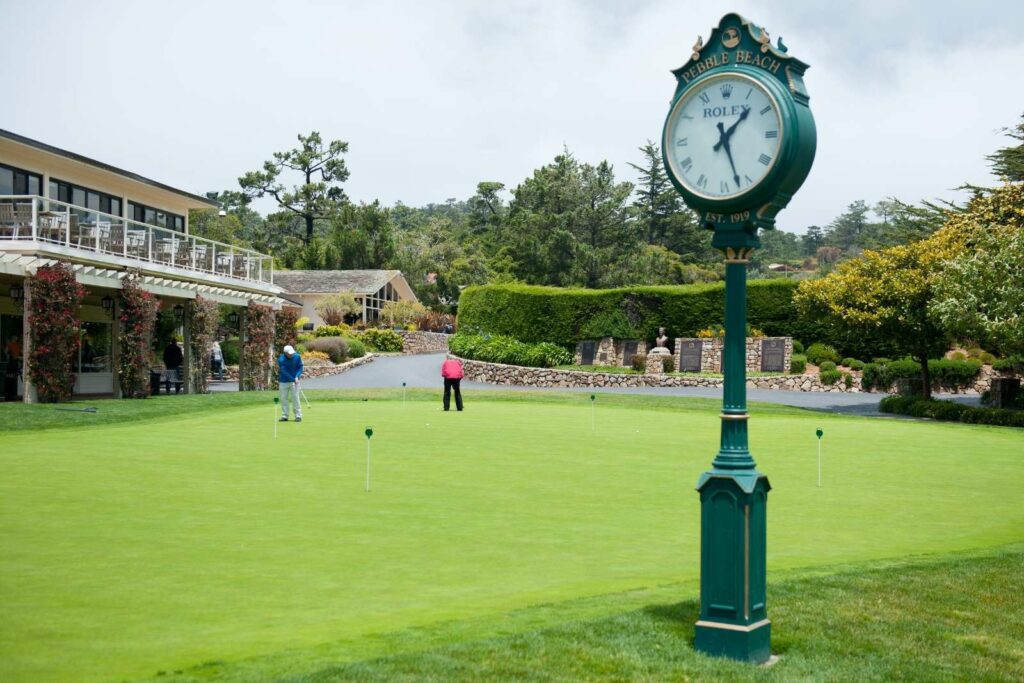 Can You Wear a Rolex While Golfing?
Rolex watches are of very high quality and undergo rigorous testing. Therefore, it's perfectly reasonable to wear a Rolex watch while golfing.
In fact, the Rolex FAQ page specifically states: "You can play sports with a Rolex on your wrist as the Rolex Oyster case provides the watch movement with optimal protection against shocks."
Furthermore, Rolex sponsors a number of professional golfers on tour, all of whom wear their watches as part of the sponsorship deal. So, it's certainly safe for you to wear Rolex while out on the course!
Does Rolex Give Watches to Golfers?
Rolex has a number of partnerships with professional golfers, including Tiger Woods, Justin Thomas, Jon Rahm, Brooks Koepka, Lexi Thompson, and others.
It's highly probable that these ambassadors are gifted Rolex watches as part of their sponsorship deal, as they are expected to wear the watch while they play.
This is a solid marketing strategy for a high-end brand like Rolex, as the golf industry is highly affluent. A good number of people watching these athletes perform in tournaments are likely to buy their own Rolex as a result of this product placement.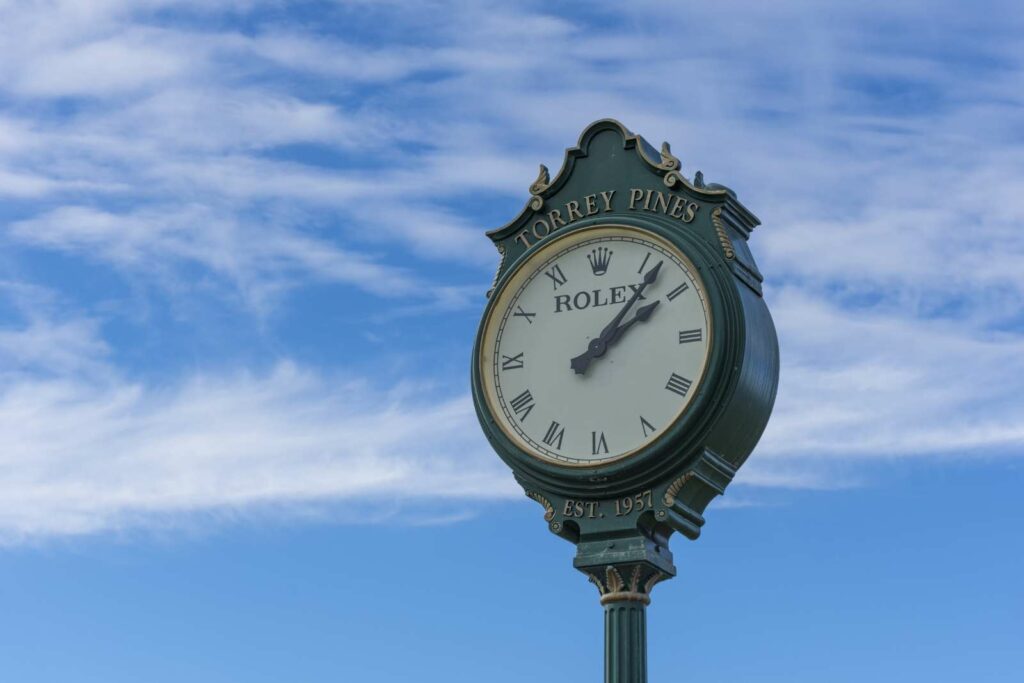 Conclusion
In conclusion, Rolex clocks are a prominent symbol recognizing a connection between the Swiss watchmaker and the game of golf lasting over 50 years.
To celebrate this partnership, Rolex clocks are installed at golf courses that are featured in major championships, both in the U.S. and internationally.
While the exact value of these Rolex clocks is hard to estimate, they serve as a reminder of a longstanding partnership and exude an air of tradition and class.
How many have you seen in your golfing career? I'll certainly be looking out for them!