Until fairly recently, the 9 wood was known as a game improvement club used by very inexperienced golfers who struggled to hit their long irons.
However, after reading that Tommy Fleetwood added a 9 wood to his bag it got me thinking about whether it could help my own game.
Would this club help me swing with confidence on those mid-range approach shots? Or alternatively, would a 4 hybrid be the better option?
In this article, I'll analyze and compare the 9 wood vs 4 hybrid clubs to help you determine which you should consider adding to the bag.
Ready? Let's get into it.
9 Wood vs 4 Hybrid
Both 9 woods and 4 hybrids have similar loft angles, ranging between 22-28 degrees. So, they generate similar distances of around 160-210 yards, depending on the swing speed and characteristics. Generally, a 9 wood will provide a higher launch than a 4 hybrid, but both offer excellent forgiveness.
What Is a 9 Wood?
A 9 wood is a type of golf club designed for mid-range shots around 180 yards. With a fairly large clubhead and high loft angle, it offers a high launch and is excellent for playing over obstacles. It's a user-friendly club, perfect for beginners but less common among experienced golfers.
Skill Level & Forgiveness
The 9 wood is traditionally preferred by beginners, ladies, and senior golfers. In short, this is due to its larger clubhead size which offers more forgiveness.
It's designed to give the players more confidence when standing over the ball, especially if they struggle to generate enough height on their shots with traditional long irons.
Club Comparison & Loft
The 9 wood is comparable to a 4 or 5-iron in terms of distance. Essentially, the main difference is that it provides a higher-flighted trajectory with less run-out.
With lofts ranging between 23–28 degrees, you should expect to see distances between 160–205 yards depending on your skill level. This could be an ideal addition to the bag for golfers who have difficulty hitting their long irons.
Pros of a 9 Wood
Large head size offers a better margin for error, excellent for beginners.
Comparable to a 4 iron in distance terms, but its versatility makes it suitable for shorter distances by gripping down and playing a higher flighted shot.
Perfect for tricky long shots from the rough due to its shape and loft angle.
Cons of a 9 Wood
Distance is lower than other clubs, limiting its usage in some scenarios.
Club head shape may take some getting used to if you're a long iron user.
Typically offers less shot shape workability when compared to a 4 or 5-iron.
What Is a 4 Hybrid
The 4 hybrid incorporates elements from both woods and irons. The head shape is larger than a long iron, but smaller in size than what you'd find on a fairway wood. Ultimately, it's used by golfers of all abilities for its forgiving nature and ease of use.
Skill Level & Forgiveness
Due to its lower center of gravity and confidence-inspiring head shape, the 4 hybrid is often favored by less-experienced golfers when compared to long irons.
It provides more forgiveness than the equivalent iron, making it easier to achieve consistently solid contact and generate a high enough launch on the ball.
The 4 hybrid is especially useful out of the rough. Personally, I love using hybrids as I sometimes struggle to make clean contact with my longer irons from the rough. This will often lead to lost distance as the club head gets held up in the long grass.
Club Comparison & Loft
Once again, this club is comparable with a 4 or 5-iron in terms of distance. With a loft angle between 22-25 degrees, it will typically achieve distances of 170-210 yards.
The 4 hybrid can be the perfect choice for golfers who lack confidence in their long irons, especially if you frequently miss the fairway off the tee!
Also, the 4 hybrid is highly versatile. It can even be used for close-range chip shots out of the thick rough, which makes it a popular choice among many golfers.
Pros of a 4 Hybrid
Offers a greater distance range, from 170 to 210 yards.
Low center of gravity makes it easier to launch the ball at a higher trajectory.
Highly versatile, performing well from the fairway and the rough.
Cons of a 4 Hybrid
Can require more skill to use effectively compared to the 9 wood.
May not be the best choice for extremely rough terrains.
Differences Between a 9 Wood vs 4 Hybrid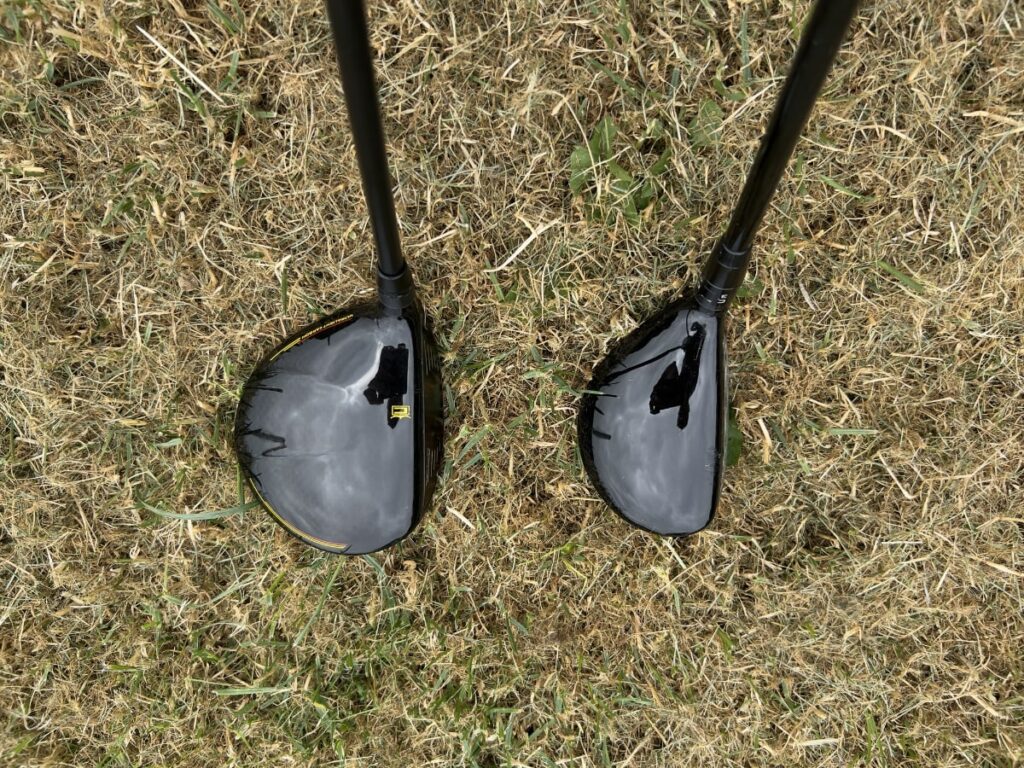 So, what are the differences between a 9 wood vs 4 hybrid?
First, let's compare the typical manufacturer specifications for each club:
| | | |
| --- | --- | --- |
| Specs | 9 Wood | 4 Hybrid |
| Shaft Length | 41 inches | 40 inches |
| Loft Angle  | 23-28º | 22-25º |
| Distance | 160-205 yards | 170-210 yards |
Swing Speed
The 9 wood has been traditionally favored by golfers with a slower swing speed, as it provides a consistent strike with better forgiveness. Whereas, the 4 hybrid has been seen as a popular choice for a variety of golfers of all levels and swing speeds. 
With the technology available today, I genuinely believe that both the 9 wood and 4 hybrid should be seriously considered — even for the more experienced golfer.
In addition, both woods and hybrids allow for the shaft to be swapped out — while irons have a fixed shaft. The opportunity to switch out the shaft you use in your clubs makes this a great option for golfers with a faster swing speed.
Interestingly, Dustin Johnson recently dropped his 3 iron in place of a TaylorMade Stealth 9 wood. That exact club was tested out by The Average Golfer:
Ultimately, I would recommend visiting a local club fitter to help you find the club with the correct shaft weight and flex that best complements your swing speed.
Forgiveness
Both the 9 wood and the 4 hybrid offer excellent levels of forgiveness when compared to long irons. Personally, I find the versatility and shallower club head on the 4 hybrid to be more forgiving out of various tough lies on the course.
The 9 wood is often a favorite among beginners. Due to its larger clubhead, it is a more forgiving club than a long iron and its loft makes it easy to get the ball off the ground.
Conversely, the 4 hybrid is designed to have the power of a wood with the control of an iron. This makes it a top choice for golfers with a bit more experience.
With a lower center of gravity and compact design, the 4 hybrid is very forgiving as it promotes a smoother swing and can aid in achieving better ball contact.
Course Strategy
Choosing the right club at the right time will have a big impact on your score. So, let's break down when you'd be likely to use the 9 wood vs 4 hybrid on the course.
Due to its higher loft, the 9 wood can launch the ball higher. This can make it easier to navigate obstacles — like trees, bunkers, and water. The 9 wood is particularly useful out of the rough, where its club head design helps to promote solid contact.
Hybrids are known for being very adaptable — they are great for shot-making on the fairway, in the rough, or even out of bunkers. For this reason, they can help with your strategy by offering distance and power, along with control and launch.
Final Thoughts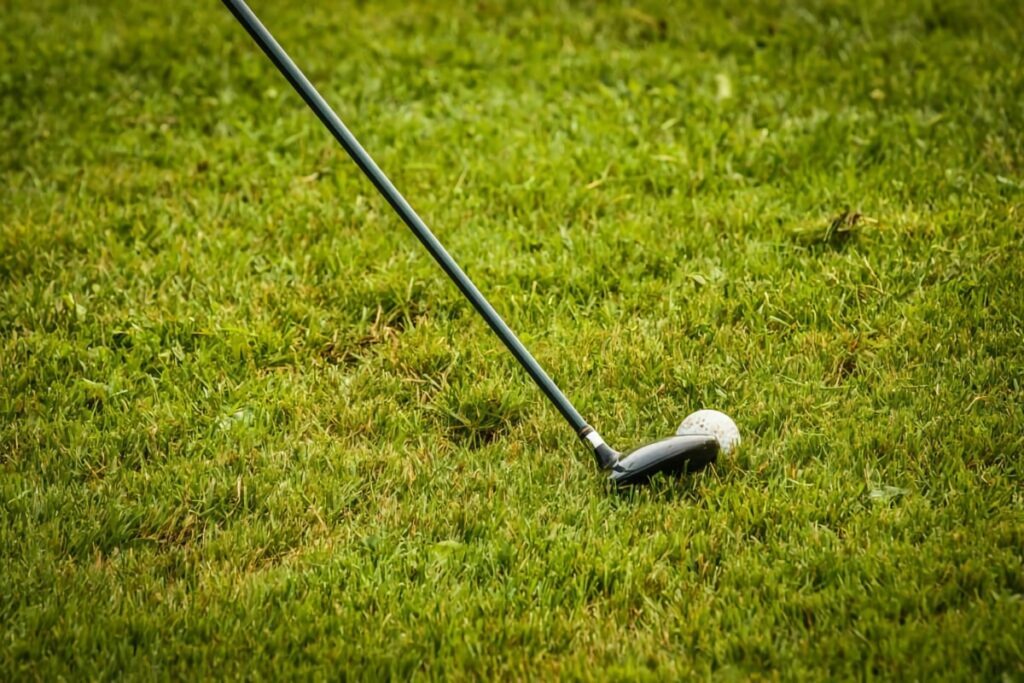 To summarize, both the 9 wood and 4 hybrid are valid options if you're looking for a forgiving long iron replacement toward the top end of your bag.
Personally, I carry a 4 hybrid in my bag. I've never used a 9 wood, but seeing the likes of Dustin Johnson and Tommy Fleetwood use the club has certainly made me consider testing it out on the course.
If you typically prefer to use fairway woods on the course, it will be easy to add a 9 wood to the bag for that extra launch capability.
Alternatively, the hybrid can be a great all-round option if you're looking for the power and forgiveness of a wood — without sacrificing the workability of a long iron.
Ultimately, I highly recommend you test out both clubs at your local golf shop. That way, you can see which best fits your unique swing. If you can access launch monitor data, you'll be able to see how each club fits into your distance-gapping needs.