In 2009, Tiger Woods was unstoppable.
His career had experienced some ups and downs due to injury and swing overhauls, but he was by far the best golfer in the world. And, despite having recently returned from knee surgery, the 2009 PGA Championship appeared to be his return to peak form.
Tiger stepped onto the first tee on Sunday with a three-round lead.
From a historical standpoint, he had the win in the bag. He'd never lost a 54-hole lead in a major championship before, and Y.E Yang — a respectable though fairly unknown player on the PGA Tour — didn't seem like the man who would take it from him.
However, Yang blew through the course and defeated Woods on the final day. When he victoriously lifted his bag over his head on the 72nd green — it was full of hybrids.
Since then, hybrids have exploded in popularity, offering a forgiving alternative to the traditional long iron. But how do they compare to fairway woods?
In this article, I'll compare the 7 wood vs 3 hybrid to help you learn which is right for your game. By the end, you'll be able to confidently choose one to add to the bag.
Ready? Let's get into it!
7 Wood vs 3 Hybrid
7 woods and 3 hybrids have similar loft angles of 19 to 23 degrees and shaft lengths of 40 to 42 inches. The main difference lies in the head shape. In short, 7 woods have larger club heads to increase forgiveness and provide a slightly higher launch.
Later in this article, I'll provide a head-to-head comparison of the 7 wood vs 3 hybrid to help you make an informed decision on which is better for your golf game.
But first, let's take a closer look at the 7 wood and its purpose on the golf course.
What Is a 7 Wood?
A 7 wood is a fairway wood, with a fairly high loft angle of 19-23 degrees. Often, they feature an oversized head shape that resembles a small driver. Typically, a 7 wood is used for long shots in place of longer irons (2-3-4 irons) and hybrids.
As many of you know, long irons can be very unforgiving. Even when struck well, the ball tends to come out at a very flat trajectory and requires pretty fast swing speeds.
7 Wood: The High-Launching Savior?
While iron heads are relatively small and thin, fairway woods have an oversized shape.
Effectively, the extra mass in a 7 wood makes it a great choice for those looking for forgiveness with off-center hits. At the same time, the lower center of gravity helps to launch the ball higher, making it easier to generate height with slower swing speeds.
In addition, its high-launch properties makes it a very useful tool for approach shots.
I can't count the number of times I've hit a flush 4 iron into the green from around 200 yards, only to see it pitch at the front and roll off the back.
Instead, the 7 wood is able to launch the ball at a higher trajectory. This means it hits a higher apex, allowing the ball to come down steeper and stop on the green.
"I can scoot a long iron the same total distance, but the carry distance and height of the 7 wood allows me to hold greens I would otherwise be rolling over. It has become my go-to club."

Arne Thomas via Golf Digest
Drawbacks of the 7 Wood
However, there are some drawbacks to the 7 wood that you should consider.
In short, the club is designed primarily for use off the fairway or for tee shots. If you find yourself in the rough, the 7 wood might struggle to make clean contact.
Most everyday golfers play with a sweeping swing. Therefore, it's likely that lots of grass will get caught between the clubface and the ball out of thicker rough.
Put it this way — if you can hit it stiff with a 7 wood from the deep rough or a fairway bunker, we look forward to seeing your U.S. Open debut!
Ultimately, the 7 wood is a great pick option if you often find yourself struggling to hold greens from longer approach shots — but it can struggle in some scenarios.
In fact, two-time major champion Dustin Johnson is a huge fan of the club. Speaking to Golf Channel back in 2021, DJ discussed why the club made its way into his bag:
"I had a hybrid and then the 5 wood. A 5 wood and my 3 wood I hit like the same distance, so (TaylorMade) made me a 7 wood. When I first looked at it I'm like, I thought I was going to hit it straight in the air, but I hit it and it came out kind of nice and low with some spin. I was like, all right, put it in the bag."

Dustin Johnson via Golf Channel
What Is a 3 Hybrid?
A 3 hybrid has a loft angle of 18-20 degrees and is designed primarily as a 3 iron replacement. Featuring a graphite shaft and a mid-size club head with a low center of gravity, it's designed to help launch the ball relatively high out of several lies.
The hybrid golf club first gained popularity in the early 2000s. As the name suggests, the club combines the best parts of an iron and a fairway wood to make something that is both powerful and forgiving, with plenty of shot control thrown into the mix.
3 Hybrid: The Forgiving Rescue Club?
In short, the 3 hybrid is a forgiving alternative to the traditional 3 iron. It gives you plenty of margin for error on off-center hits. Furthermore, it makes it significantly easier to get the ball airborne even out of thick rough, or challenging lies.
If your player handicap is on the higher side, you can use a hybrid to get more produce big, beautiful shots even with a flawed swing. The club head is narrow and small, better for picking the ball out of the rough, bunkers, or even tight lies.
Personally, I love my 3 hybrid — It's one of my most-used clubs in the bag.
I use it for any approach shot over 200 yards — out of the fairway or rough — and automatically use it for tee shots on days when the driver is feeling rusty.
Drawbacks of the 3 Hybrid
While it launches much higher than a traditional long iron with the same loft angle, the 3 hybrid won't reach an apex as high as a 7 wood due to the smaller head shape.
On particularly dry summer days, an approach shot with a hybrid can occasionally be prone to rolling off the back of the green due to the firmer conditions.
Nevertheless, the 3 hybrid is a great choice for players who feel comfortable with a traditional iron swing — but prefer the extra forgiveness and versatility of the club.
And hybrids aren't just for the everyday golfer. A number of tour pros have hybrids in the bag, including Collin Morikawa — who discussed his reasoning with Golf.com:
"Even though I like to play my cut, when I play this hybrid, I'm almost playing straight shots because I know how straight it is… It just gets the ball airborne quickly, easily, and how could you not like that?"

Collin Morikawa via Golf.com
Differences Between a 7 Wood and 3 Hybrid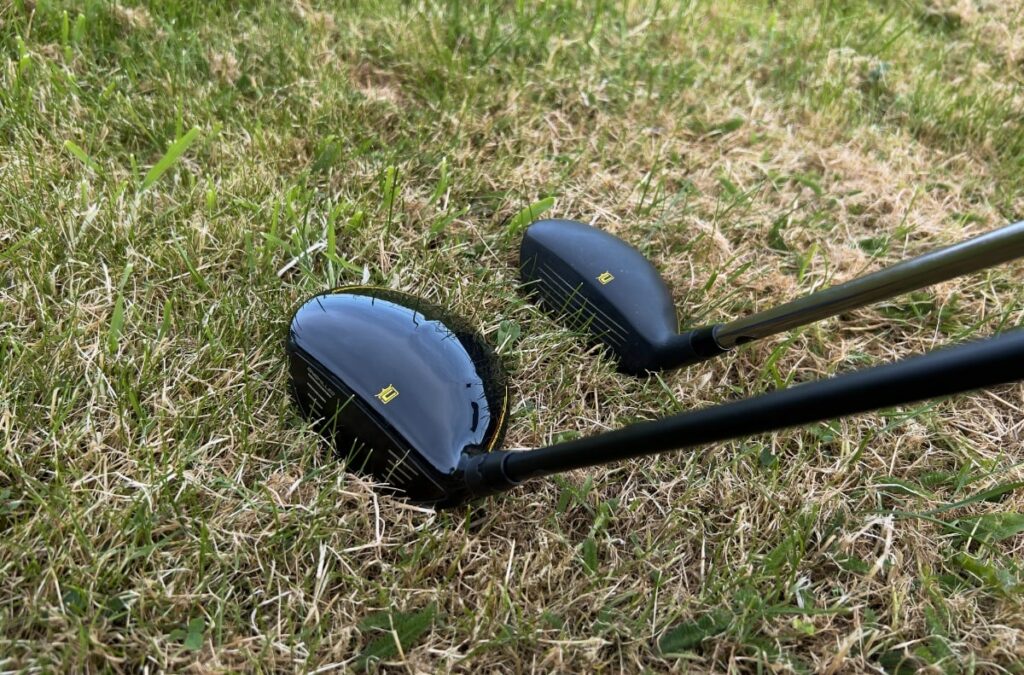 So, we've covered the pros and cons of each club. But, how exactly does the 7 wood stack up directly against the 3 hybrid in terms of specs and performance?
First, let's dive into the specifications.
In the table below, I've collected data from leading manufacturers (TaylorMade, Cobra, Callaway, and Ping) to analyze the latest 7 wood vs 3 hybrid specifications:
| | | |
| --- | --- | --- |
| | 7 Wood | 3 Hybrid |
| Loft Angle | 19 to 23º | 18 to 19º |
| Shaft Length | 41.75″ to 42.25″ | 40.25″ to 40.75″ |
| Avg. Distance | 170 to 190 yds | 170 to 190 yds |
| Head Volume | 145 to 170 cc | 126 to 140 cc |
Sources: TaylorMade, Cobra, Callaway, Ping
Loft Angle
Firstly, 7 woods and 3 hybrids have very similar loft angles.
Most 7 woods are equipped with 21º standard loft, with up to 2º up/down adjustability.
This is slightly higher than the 3 hybrid, which contributes to the higher launch qualities of the 7 wood when struck cleanly from a good lie.
Shaft Length
Next, 7 woods have an average length of 42 inches vs 40.5 inches for the 3 hybrid.
With a difference in shaft length of 1.5 inches, the 7 wood is noticeably longer. Typically, it suits players who are comfortable swinging a longer club like a 3 wood or driver.
Personally, I prefer the shorter length of the 3 hybrid as it allows me to stand closer to the ball. This gives me the confidence to consistently make solid contact.
Distance
With similar lofts and lengths, both clubs carry around 170 to 190 yards.
Of course, this number depends on several factors including swing speed and the quality of the strike. However, head-to-head they are very similar in range.
Head Volume
Finally, 7 woods have larger head volumes than 3 hybrids.
With the larger head volume, the 7 wood is able to position a lower center of gravity relative to the sweet spot on the clubface.
This means it will typically launch higher than the 3 hybrid. However, the flatter head shape on the hybrid makes it more suitable for shots out of the rough.
Check out the video below by Ali Taylor, where he takes both clubs out onto the course to compare the 7 wood vs 3 hybrid in real-life scenarios:
How to Choose the Right Club For Your Game
Ultimately, it's up to personal preference!
On the one hand, the 7 wood is a great high-launching club which makes it an excellent choice when hitting into a firm green from a fairway lie or off the tee.
However, the longer shaft length can sometimes make it difficult to hit consistently well for golfers who prefer shorter clubs. This is where I feel the 3 hybrid excels.
Personally, I love how I can use my 3 hybrid from almost any lie on the course. It gives me the confidence to step up and make solid contact almost every time, even when I'm hitting my other clubs relatively poorly on the day.
Ultimately, I highly recommend you go to your local golf shop to test out both clubs.
That way, you can feel confident about making the right choice for your game.